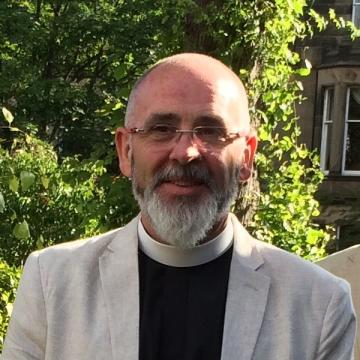 Rev'd Canon Dean Fostekew 
Contact phone number:  0131-346-4127
An adopted Scot, Dean is a graduate of Chichester Theological College; in 1991 he visited Edinburgh to undertake 3 days of research and never really left. He moved permanently to settle in Scotland in 1995 following a curacy at all Saints Boyne Hill Maidenhead.
After working and living in Lockerbie from 1995-97, St. Mary's Dalmahoy 1997-2001 and the Episcopal  Cathedral in Edinburgh 2001-2009 Dean was inducted as the Rector of the Church of the Good Shepherd in May 2009.
Dean thoroughly enjoys his job, supporting the local community and working in the diocese.  He says that Murrayfield is a good place to minister in because the people are interesting, supportive and challenging.
Dean is proud to stand up and be counted as a 'Liberal Thinker and Theologian' and is constantly encouraged by the congregation's response to sermons and new ideas. Exploring the grey areas of life and faith excite him.
Dean also has a role as Chaplain to the Bishop of Edinburgh, which takes him hither and thither across the Diocese.
When he's not out and about on church business, there are several places that Dean can be found ...
In the Rectory kitchen ...
for our Rector cooking is not so much of a hobby but a passion and, although he's a quasi-vegan, Dean's roast-dinners are said to be 'Master-Chef'-worthy, including roast potatoes described by his friends as the 'crispiest in Scotland'.  Dean is some-what sceptical of this praise. Whilst working in the kitchen, Dean is kept company by his Radio friends from Ambridge. He firmly believes that The Archers is a live documentary, and not a soap opera. His partner, often tries to convince him otherwise but as Dean says; 'If Gill Archer  says; 'It is so', then it is so.' His cats Archie and Lady Grace agree with him.
At the theatre ...
Dean has been known to overdose on shows during Edinburgh's International Festival; contemporary dance (most especially Scottish Ballet), theatre and opera keep him happy as do historical TV programmes and historical detective novels although frustrations can creep in with differing interpretations of historical events. That's to say when they don't agree with his interpretation!
... that said ...
Dean is a fan of "Dr Who"; Ealing Studios Comedies and the original St Trinian films. He has also of late become somewhat addicted to Archive Radio as expounded on Radio 4Extra. All gas and gaiters, the Men from the ministry and the Navy Lark have seemed to have improved his ironing skills no end.
Dean in his own words:
"I am convinced that I'm living in the best city and the most beautiful Country in the world and feel privileged to be a priest in the Scottish Episcopal Church, which I consider to be the most exciting expression of Anglicanism I have ever encountered"
Caroline Longley: Lay Reader
Caroline was licenced as a Lay Reader at the Good Shepherd in September 2018.  Caroline preaches about once a month and assists with home communions.  Caroline leads a monthly service in Murrayside Care home.   Caroline is trained in Godly Play and enjoys creative and reflective approaches to worship.  
Away from the Good Shepherd Caroline is a software developer by profession but can often be found away from her computer volunteering in Saughton Park or enjoying walks in the local area.